Light at the end of the tunnel
Since Dania cup and BCC 2011 I haven't really been enjoying agility - I've been feeling burned out agilitywise. I have never felt this way before.
Agility has always been something I really enjoyed and a game I loved to play with my dogs. Feeling like this is quite scary and disturbing. A couple of weeks ago the jumps I ordered in June finally arrived. believe it or not, but I didn't even bother test them! I simply packed them away. This is so unlike me. I also began to wonder if I would even buy access to the world championship live stream next weekend.
I know what pushed me into feeling this way, but I'm going to keep it to myself for the time being. Allowing myself to take a break from teaching and training seem to do me good as I finally took the jumps out for a test run today. The dogs loved it and it felt good too :o)
To night I bought the 3 day WC live stream. Let's hope the draught is over and I will start enjoying agility again.
The photo below was taking this afternoon.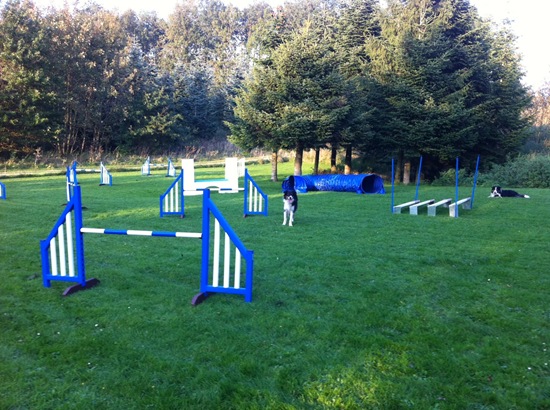 The last four weeks has been hectic and a bit chaotic. School has been taking up most of my waking hours. We been leaving home at 6.15 am and returning 12 to 13 hours later. Thank god my parents been willing to doggysit. It's been such a huge relief to drop Zap and Poncho off in Gentofte on our way to work/school, knowing they would be well look after, and picking them up on the way home.
During the next four weeks I only have lectures during the afternoon. Hopefully I will have time to do more than eat, sleep, study!
Although it's been tough it has also been the most exciting part of the last three years of studying yet. All the knowledge we've gather so far is being used in practice. I am feeling right at home :)