A weekend of WC live streaming
Friday I had planed to skip the day's lecture in pathology so I could spend the whole day in from of the TV watching the live streaming.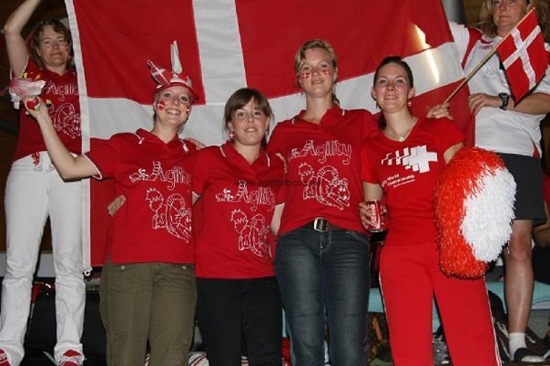 The picture above is from WC 2009
About 20 dogs into large dogs individual jumping I felt so sad for the dogs running of the slippery turf that I decided to go to the gym and then to class anyway. I think it's sad that so many people come together to compete at a world championship not only to be challenged by difficult courses but also the carpet. Thankfully by the end of the weekend the dogs seemed to handle the turf better.
That been said it was once again fantastic to watch the world's best handlers compete. Many handlers and dogs did so well and think the quality of the medium and small dogs was extremely high this year. I usually find other things to do when the small/medium dogs are on, but not this year.
The large dog final on Sunday was very exciting. Mette came over and we watched it together. I was actually expecting a hattrick from Lisa Frick, but unfortunately Hoss got a fault on the weave poles. Lisa then encouraged the audience to cheer as loudly as possible while they ran the rest of the course. I really enjoyed this run - I think I showed great spirit.
Watch Lisa/Hoss in the finals and don't forget to turn on your speakers :o)
Watching the WC finals is always very emotional for me - I simple get so unbelievably happy on the behalf of the winners :o)