Sol: 10 Weeks
Sol had a busy week: She spend her time going for car rides, socialization trips and walks in the woods and much more.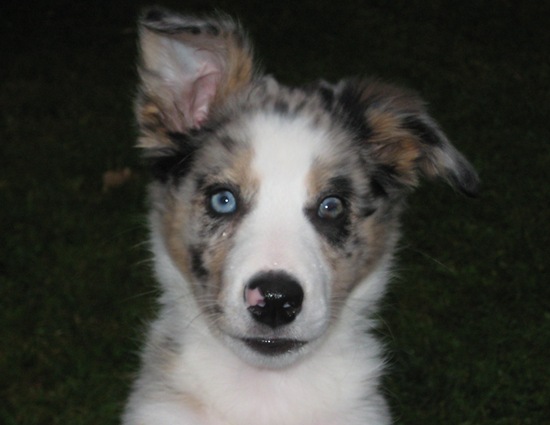 Sol is an independent puppy. The list below is some of her (self taught) accomplishments of the week
climbing the stairs
escaping the X-pen
discovered tunnels
Climbing the stairs to the first floor was pretty much by accident as I don't want her to walk on stairs for a long time due to health issues. While I was vacuuming Sol decided to explore the upstairs rooms on her own. She decided that walking down the stairs was too much so she sat there at the top of the stairs barking and waiting for me to come and help her down. She also managed to escape the fence I had put up in front of the stairs to prevent her from another adventure.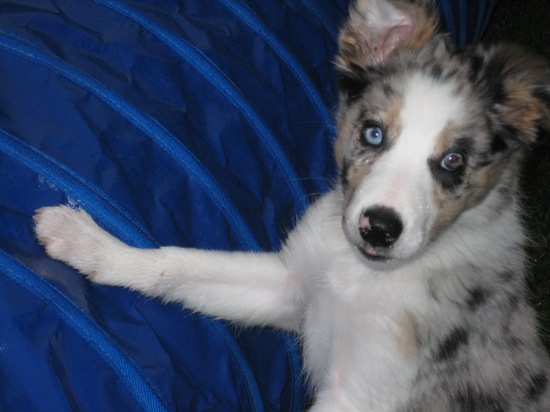 Zap and Poncho don't get quite as much quality training time at the moment because of Sol. I therefore decided to bring the x-pen outside so I could train the boys while keeping an eye on Sol. Easier said than done! While I was running Poncho Sol climbed over the x-pen and ran as fast as she could straight to Poncho and grabbed the toy out of his mouth. She cracks me up :o) but her x-pen now comes with a roof as I see no need for repeating this behavior too often!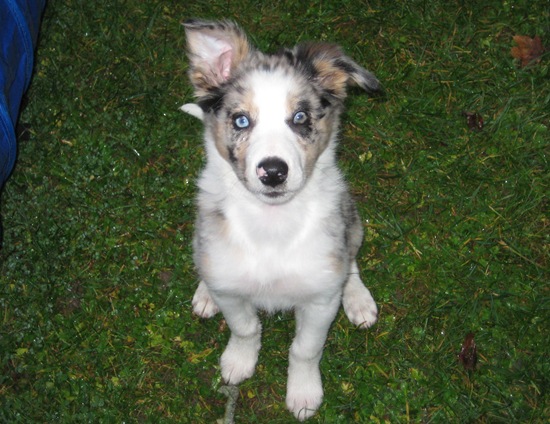 The other day she decided to check out a straight tunnel as I had set a course for Zap and Poncho. She did it all on her own. On shaping, no luring and no encouragement. She ran straight from one end to the other. Today the tunnel was bend which was pretty indifferent to Sol. Sol thinks tunnels are great tug toys as well.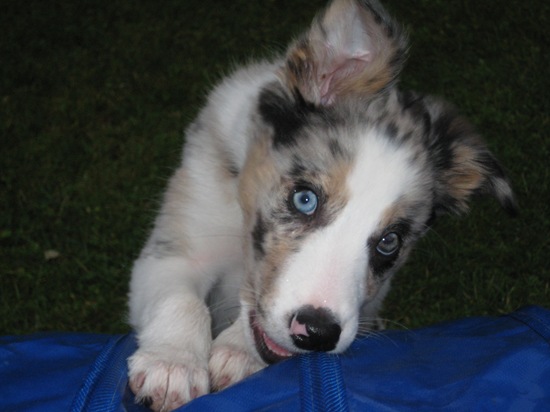 I spend a lot of time playing with her and through play she learns things like impulse control, retrieve toy straight to me and so much more. Our 'training sessions* are simply a part of the game we play.
Main priority is, and it will be for a long time, socialization with humans and other dogs in all shapes and sizes. Last night I went to pick up Tim at the train station. I had Sol with me of course and she took everything in her stride as usual. Besides from her obsession with old gum and cigarette butts, which is pretty disgusting, she behaved perfectly.
Video of her skills, shaped as well as self-taught is coming soon.