VAS AG2 Courses
Here's the Agility grade 2 courses from last weekend's trial. Course design by Per Vestergård.
I ran these two courses with Poncho.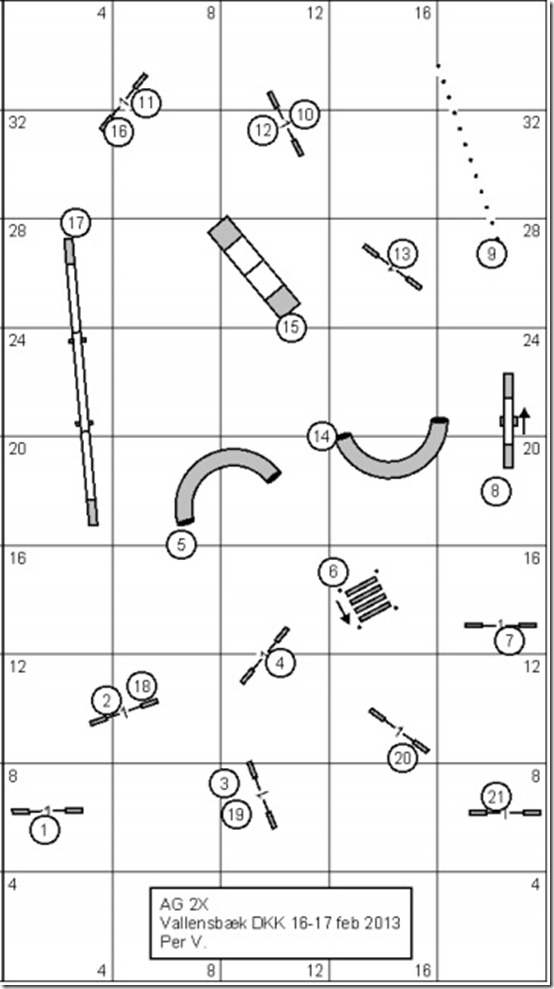 Lead out to take off side of 2. Front cross as the dogs comes towards me.
Basic pine wheel handling 2-4 with dog on right.
Blind cross between tunnel exit and long jump.
Dog on right for 6 to 9
Front cross as dog exits the weaves
Ketschker on 11
Dog on left for obstacle 12 to 14
Tunnel exit to 16 dog on right
Ketschker on 16
Rear cross 19 to 20
Did have a bit of a rough start at this course as Poncho broke his start line stay and refused to lay down on my verbal command. I decided to go back and repossition him knowing I'd get a refusal for breaking the plane of 1 and starting the time at the same time. Got a refusal on 11 for a very badly timed ketschker otherwise a close to perfect run.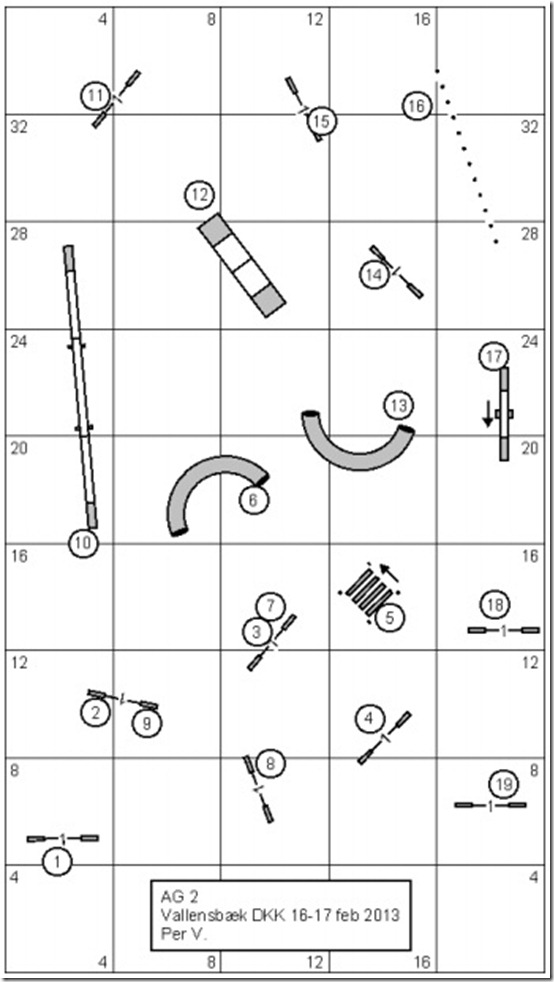 Lead out half way between 1 and 2
Verbal cue for right turn plus lateral motion off of 2
Front cross 3 to 4
Ketschker on 4 and dog on right for long jump and tunnel
Blind cross between tunnel exit and 7
Dog on left for 7 through 13
Push after A-frame to 13
Front cross between 14 and 15
Ketschker on 15
Dog on left for 16 to 19
A way to late front cross on 14 resulted in a dropped bar followed by a refusal on the weaves. Should probably have wrapped the wing of 15 instead of using a Ketscher as Poncho came straight back to me and didn't see the weaves at all. We did get judged to a missed down contact on the dog walk. I don't quite agree with the judge on that one - don't think he was expecting a running dog walk ;o)
Next competition will be in April on grass. Wishing for the snow to smelt away soon!