Gåsahoppet 2013
On Friday the 29th of March Poncho and I drove to Skurup, Sweden to compete at Gåsahoppet. It was our first competition abroad, but definitely not our last.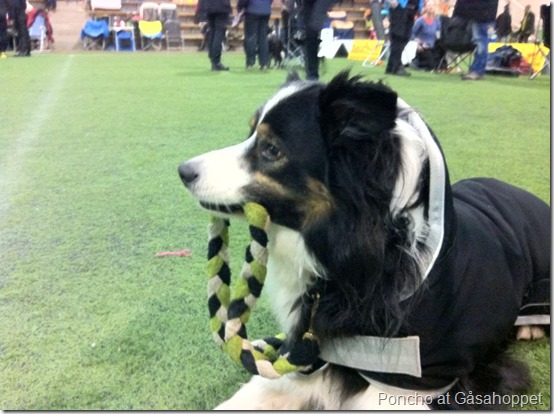 Gåsahoppet is a 3 day trial, but I had only entered Poncho on the first day. I really enjoyed the venue - indoor and on artificial turf - so I regret making the decision not to compete all three days.
Our first run was in jumpers 2. Poncho got a fault on the weaves, which is so unlike him, followed by an elimination. Apparently in Sweden when faulted on the weaves you are supposed to do all 12 poles over. The rest of the run got pretty sloppy.
AG2: No faults on the weaves, but a poorly executed and time-consuming front cross led to a dropped bar - otherwise I was very contempt with our performance.
When I watched the videos to day I see lots of places I can optimize my handling and move quicker, than I did.  One thing I will be working on is exchanging many of my front crosses with blinds.
We had a lovely day in Sweden and we'll be coming back next year. Maybe Sol will be ready to compete this time next year.