WAO Prep 1
In less than a month Poncho and I will be on our way to Spain with the rest of the WAO team.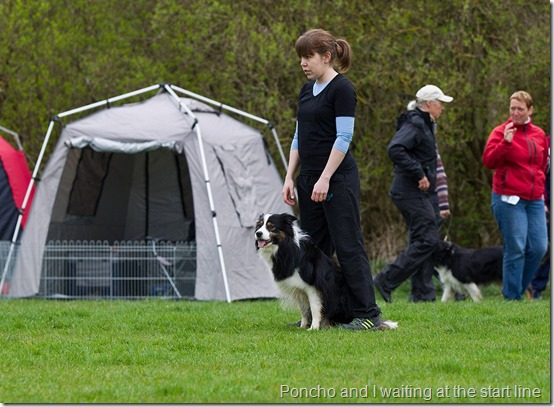 It also means that we don't have that much time left to get the last details in place. Due to the Danish weather we haven't had a chance to practice outdoors until recently and I couldn't afford renting one of the indoor training facilities, so I feel that we are a bit behind training-wise.
Not that I am a big fan of scheduling and being all that systematic when training, I have narrowed Poncho's WAO prep training down to some specific goals:
Obstacle discrimination
Tunnel/contact obstacle discrimination, but also tunnel/weave pole entry discrimination. I will be working on getting Poncho to discriminate on verbal cue alone and combined with handling.
The double jump
Poncho will be jumping 65 cm at WAO. Not that that will be a challenge, but the huge spread of 65 cm between the first and second jump of the double can be.
Dog walk contacts
Poncho has both a stopped and a running contact on the dog walk. When cued to 'touch' he will stop in 2on2off position. When cued to 'go, go, go' he will perform a running contact, but the success rate is only high when both the approach and exit of the dog walk are straight. If he is in any doubt of where to go next he will lift his head, shorten his stride and only hit (if he hits) the top of the contact with one rear paw. Therefore we are working on running contacts when the exits are straight and 2on2off if the exit involves a turn.
My reason for combining RC and 2on2off is that the hit rate has been less than 50% at trials if the exit involved a turn. I don't want to enter the ring at WAO knowing that there's only a 50% chance of getting the dog walk contact.
Blind crosses
I need to work on my timing when using blind crosses. I should cue the turn before take-off (surprise, surprise) but for some reason I am finding my self blind crossing when Poncho takes off or even worse when he has left the ground. The result is a dropped bar, since Poncho has no intentions of compensating of my bad timing ;o)
The out door trail season starts this weekend and we will be going to both Ribe on Saturday and Fyn on Sunday. I have only entered Poncho. Zap won't be participating in any trials before WAO as I need to focus on Poncho.
Here's a small video of Poncho's RC on the dog walk with straight approach and exit.