Work in Progress
Initial obstacle training equals foundation for future awesomeness.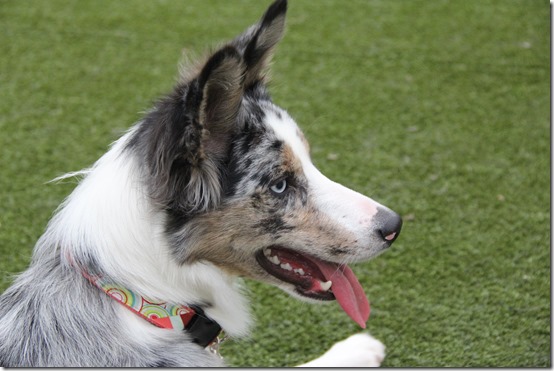 As you know I am in no hurry regarding Sol's agility training and getting her ready for competitions. There's no trials at this time of years and I won't be competing with her indoor on carpet under suboptimal conditions. I haven't decided when she will start competing but probably sometime during spring 2014.
The initial obstacle training is probably my favorite part of the training process. I love the shaping process and putting all the pieces together. I have a very clear picture in my mind of what I want each obstacle performance to be like and we are working towards that goal right now.
I don't want to be bothered with for instance micromanaging the weaves or something like that when competing. When in the ring my main focus should be on handling the dog and not on making sure I am in the right spot for the dog to hit the weave entry. Hitting the entry is the dog's job as long as it has had the proper training and the obstacle is cued well enough in time.
Sol is so much fun to train with. She makes training an insufficient word to describe what we are actually doing as it feels so much more like play. She is focused, fast and creative and she always put a smile on my face even though it seriously hurts when she hits my thigh at full speed in order to make me grab her tug toy ;o)
As far as jumping goes she is showing a huge capacity. She reads distances and heights very well and jumping 65 cm on a straight line is piece of cake. She likes to jump with extension though, so we are working on value for wrapping the up-rights. She knows how to wrap the wings, but loves blasting ahead at full speed. The main theme for jumping at this moment is building value for collection.
Regarding her contact performance on the dog walk lots of people have been asking why I decided on 2on2off instead of running. I love the sight of a dog hitting the DW contact at full speed but the whole process of getting to that point is long, repetitive and frustrating. I taught Poncho a running DW and I love his contact performance, but teaching and maintaining the behavior is just so much work. So that's why Sol has a 2on2off DW. I will be teaching a running A-frame though.
If you were wondering why I have been posting all of these bits and pieces of Sol's initial obstacle training then you know now that it's because I absolutely love this part of training.