A-frame and rubber stuff
As I mentioned earlier we added an A-frame to our agility obstacles. It was made in Germany by WT-metall. The shipping to Denmark wasn't cheap, but we ended up paying 6600 kr. overall which isn't much compared to others.
One of the things I really like is the height setting; it isn't fixed at one or two heights like most other, but you can place it at whatever height you want. The base is broader than the apex which should make it easier to tell if the dog hits the contact zone. I really can't wait for all the snow to go away so I can start the running contact training for real.
Can you tell the A-frame is Poncho's favorite obstacles?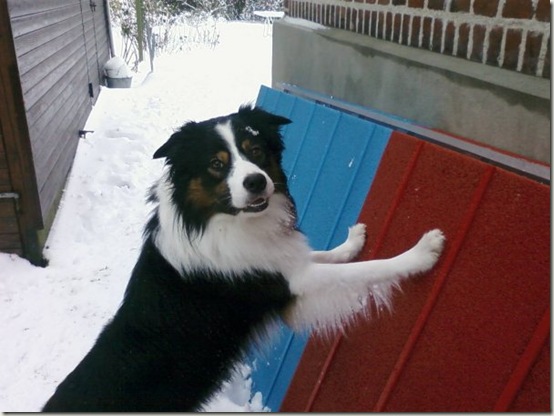 The A-frame completes our collection of agility equipment which features 10 jumps with wings, 8 wingless jumps, 2 sets of weave poles; one 2x2 and regular (actually 3 sets if you count the stick-in-ground poles as well), 1 seesaw, 1 dog walk, 1 A-frame and a tunnel (6 meters). That leaves us with tons of possibilities :)
A while ago I found this book on Clean Run on how to apply rubber surface to your contact obstacles. I haven't bought it since it isn't released yet. Tonight I found out that Clean Run also plan to sell rubber surface kit - isn't that great? Plus they have a ton of different colors to choose from - 24 to be correct. The only down side is I don't know if they'll ship internationally, but I have send them and email with my question, so hopefully they'll get back with a positive response.
I entered Poncho to Fionia Cup 2010. A whole week of agility on beautiful Fyn with good friends.