How to get the good stuff for less money
No additional VAT (moms) is added when you live in an European country and order items from other European countries. This is actually worth looking into if you want to save some money. Being a student with a relatively limited budget I find myself forced to search the web in order to get the good stuff got lesser money.
I want to share with you some of the foreign web shops that sells dog or agility related items very cheap compared to Danish prices.
Zoo plus
Who would have thought buying dog food in England would be a money saver? Well it is. Take 15 kilos of Eukanuba Jogging and Agility as an example. The price of a bag bought in Denmark is 599 DKK. If you buy it at Zoo plus you'll get the same amount for 414 DKK. You will of course have to pay for the shipping which is around 80 DKK. I recently bought 90 kilos of dog food and paid 80 DKK in shipping of all six bags combined. The food was delivered to my front door 5 days after I ordered - pretty good I think. Doing the math I ended up paying less than 14 DKK in shipping per bag. By ordering 6 bags I saved a total of 1032 DKK compared to Danish prices. Note that delivery to my front door is not included in the Danish price. Generally a great shop with a large range of food, dog accessories and great service.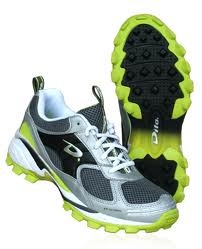 Since my old agility shoes are literally falling apart I thought it might be about time I bought some new ones. I was choked to see that I couldn't get a pair of Ditas (2009 model) for less than 800-900 DKK in Denmark. Searching the web I found the same pair for 450 DKK in the UK. Pro sport UK is one of the few shops willing to ship items off to other European countries. They also offer a great service and are very helpful. If you aren't picky about style and color and have small feet like I do, you can save an additional amount by buying junior shoes. Oh and look for hockey shoes not agility shoes. Other brands than Ditas are available in this shop as well.
Agility tents
Want those easy to assemble tents with no advertisement from kennel clubs or food companies? I do. Khyam tents offer the quick erect system also seen in the tents provided by the Danish kennel club. But they are cheaper than those bought in Denmark. Shipping from UK isn't expensive. The only down side, that has absolutely nothing to do with the web shop, is that you can't leave these tents unsupervised in stormy whether - the bares can't withstand the forces of nature.
Dog food supplement
Again an UK web shop. I add Glucosamine and MSM to my dogs diet. Bob also gets Serene-Um to calm him down a bit. Buying these supplements in DK is often very expensive. Nutrecare has very large range of supplements and special diets. Even though shipping is added it is still cheaper than buying glucosamine and MSM in DK.
I hope you'll find the links useful.