Why Aren't We Participating?
Puzzled once again. How come agility world championships are held without Danish participation?
Since the first FCI world championship took place Denmark has each year elected a team and has won both the individual title and the team title.
But what about the IFC World Championship WAC or the World Agility Open Championship WAO?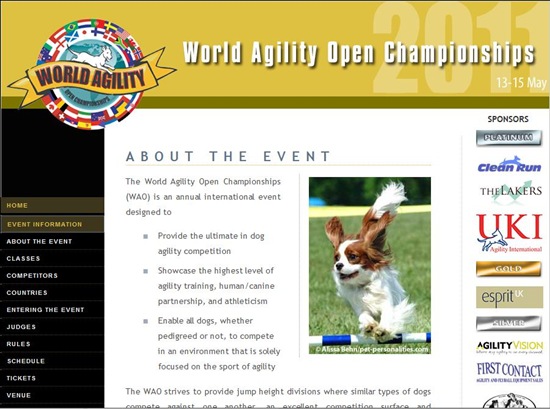 This year the first annual world agility open championship will be held in England. Since 2001 IFC WAC has been held without Danish participation. Last year WAC was held in England with over 20 participating countries world wide. Even though WAC has been held for a decade there has been no referral or discussion whatsoever in the Danish agility community. At least not openly.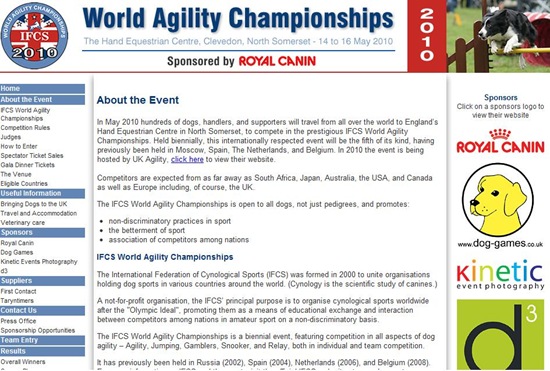 The FCI world championship only allows participants of FCI acknowledged breeds with a pedigree made out by a FCI acknowledged kennel club. Of course there must be exceptions since KC registered dogs are participating. I'm not going to bore you with rules and regulation so I will get to the point: The WAC and the WAO allows dogs of all breeds and mixed breeds. If you look at it roughly you will have a better change of finding the worlds best agility dog at the WAC/WAO since anyone can participate no matter breed.
Don't get me wrong the FCI has done a great job of preserving breeds, but to me FCI is more about beauty than brains. There are titles in the FCI regime Zap or Bob can't obtain because they are neutered and therefore won't be able to get the placement in a breed show needed to gain these titles. Why is getting an excellent or whatsoever in a show even required to get an agility title? I don't see the link. Oh, and why can't mixed breeds obtain the same champion title as pure breeds? Are mixed breeds considered lesser dogs? Furthermore dogs who accidentally lost a piece of their tail are not allowed to compete due to Danish legislation. Why all of these limitations in such a small sport like agility?
In my opinion agility has nothing to do with dog breeds or fancy show titles. Agility is for everyone - no matter breed.
I must admit I like the saying used by Alaskan Husky breeds 'Breed the best, forget the rest'.
Jump heights is another thing I don't get. Four jump height are used at WAC/WAO instead of only tree which is great  for us with those borderline dogs. I like this because to me it doesn't make any sense that a dog that is 45 cm tall should jump the same height as a dog that¨is 65 cm tall. I actually find the FCI jump heights a little discrimination, because it will take a lot more effort for Liva to get around a course with 65 cm jumps compared to the effort required by a taller dog. Guess who will get the fastest course time. I might think twice before participating with Liva on a class 3 level since she would have to jump over 20 cm higher than her own height. 
The WAC/WAO doesn't exclude anyone based on size or breed. 
The classes at WAC/WAO are also more creative including biathlon and triathlon.
I guess I should be thankful that the kennel club does elect someone to represent Denmark at Crufts' international event, but why not send some one of to the AKC invitational?
Lots of blurred random thoughts on big organizations and the core of agility. The WAO/WAC is a great alternative to the FCI but with one main difference: WAC/WAO is only about agility and who's best at it.
I just think it's sad that championships are held annually without Danish representation. Maybe DcH should elect a national team to participate in WAC/WAO next year? Just a random thought - again. Maybe I have an addiction of seeing the best of the best competing at the same event?!